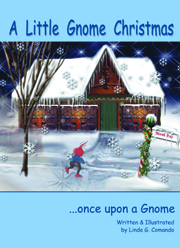 The fierce Ice Giants force the Gnomes of Gnibblenook Forest from their little gnome homes. Some of the elder gnomes in the village know of a nearby cave. They lead the gnomes through the forest up the mountain to the cave where they will remain hostage of the Ice Giants for a long, long, long time. When the Ice Giants finally lose their battle, the Gnomes of Gnibblenook Forest return to their homes and ebuild their entire village. They also have new neighbors in the big farm house next to their village - Mr. and Mrs. Claus. This is a story of fun and fantasy, romance and adventure of the little gnomes who have hope in their hearts and never give up.
A Little Gnome Christmas is now available on Amazon
Click Here and go to : Amazon!