Charlotta at Christmas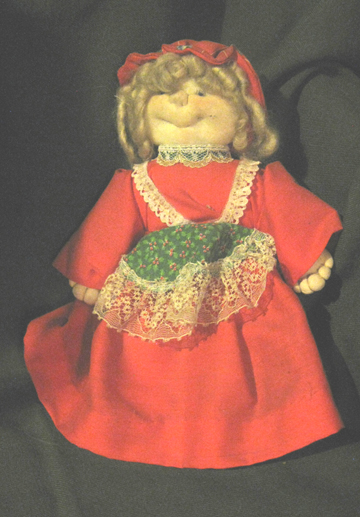 Charlotta at Christmas my first attempt to make a gnomish version of a soft-sculpted doll. She was named after my grandmother, Charlotta Hoglund Grönroos. Why not? Grandma was born in Sweden and her husband, Matthodius was born in Finland - so of course there is a strong gnome connection!
While Charlotta is not for sale, if you wish your own handmade Charlotta at Christmas (or any other holiday), let us know.
Charlotta is about 10 inches tall
$69.00
I made my first soft-sculpted sock doll when I was about 8 years old. She had green hair, an embroidered slightly lopsided face and arms that were not the same length. But that didn't matter, Mildred, who I named after my mother went wherever I went.
Ironically my next attempt to make a soft-sculpted doll was for our youngest daughter, Janna, when she was 8 years old. Christmas 1983 will be remembered as the epic Cabbage Patch Kids craze. Their scarcity and high demand led to in-store riots, trampling, and violence as parents fought to get their hands on one of the dolls. Not exactly what we wanted to include in our Christmas Shopping itinerary so we opted for the next best thing. We were off to the Rag Shop to buy a pattern, some fabric and do the best I could.
While it wasn't exactly what Janna expected, it was impressive. We still have memories of that Cabbage Patch doll and Christmas that year. That homely doll was the start of my crazy caricature creations and eventually my funny little gnomes, kitchen witches and a few other soft-sculpted creatures.
A day in the 'office' now means a day at home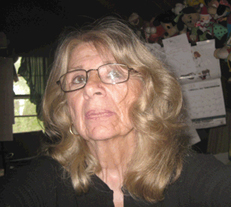 Sometimes it is during our worst experiences that we learn new things or try new things. As the editor of our local newspaper, The Townsman since 2005, my life took another quick change in 2020 when the COVID pandemic changed the world we live in. We no longer were able publish the printed version of our weekly newspaper and deliver it as we had for over 15 years. I took the leap and The Townsman went virtual! The transition was not without challenges. Now a year later, having it almost down to a 'science', I have time to add to my gnome creations and am looking forward to other artists and crafters joining our Gnome Gneighborhood and growing gnome family.